News!
Last day of our 2017 harvest was December 20th!
Thank you to all of you who purchased our fresh cranberries last year. Please look for us again this year! Please visit our Facebook page and keep up to date on what is happening on the farm.
Photo of September, 2016 Early Samples - Harvest 2018 will begin the first part of October and will continue through the week before Christmas, for fresh from the vine, fully vine-ripened cranberries. Picked, cleaned and packed fresh for each order. We work hard to give you the World's Best Cranberries!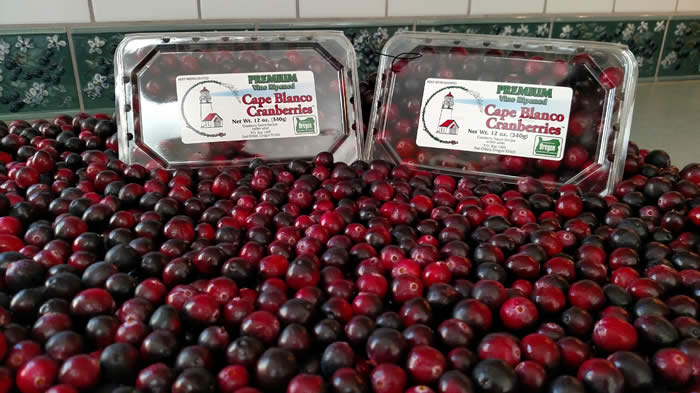 Mary from Cape Blanco Cranberries went to Hong Kong and Shanghai with the USDA AgriBusiness Trade Mission, September 6th through September 14th, 2016. My sincere thanks (xiè xie) to all who took the time to come meet me! I enjoyed my time in Hong Kong and Shanghai very much and met many wonderful people! Please send an email to me, Mary, if you would like more information or wish to place an order. We look forward to doing business in Hong Kong and China!
Beautiful Cranberry Blooms on our Farm in April and May!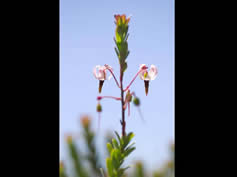 Exclusive!
Move over, Maraschino! We are excited to introduce you to an entirely new cocktail garnish...the cocktail cranberry, an elegant accompaniment to martinis, mixed drinks, and champagne. See more at LoungeAttire.com.
"Dirty" Cranberries?
We are still getting inquiries about the episode of "Dirty Jobs" (the Discovery Channel television show hosted by Mike Rowe) entitled "Cranberry Farmer". It originally aired in the spring of 2008 and has since been aired as a repeat as well as a shorter version of the episode in a holiday special. Yes, that was us! We really enjoyed working with their whole crew and we appreciate the kind words from all of you as a result of the broadcasts.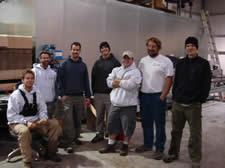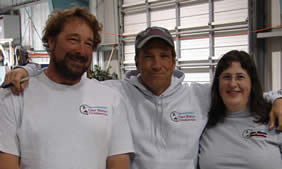 The Dirty Jobs Crew with Ron Ron, Mike Rowe and Mary
We thank you for your interest in Cape Blanco Cranberries and our products.